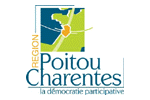 Montmorillon is a quiet town of around 7,500 people located in the Vienne departement of Poitou-Charentes
In Montmorillon there are the usual run of services and shops, but this ancient town has an important added attraction - the literary quarter, known as the Cité de l'Écrit. It is this beautiful section which is increasingly attracting tourists in their thousands.
Situated on the left bank of the River Gartempe which winds through the town, the Cité is full of brightly signed literary shops, workshops, bars, cafes and restaurants which line the narrow cobbled streets of this renovated medieval artisan quarter. There is even a theatre, one that hosts just some of the events arranged throughout the year. Last but not least there's the thriving International Arts Centre, with a Tea Room ('out of this world scones') and English book Exchange, which arranges a variety of art and creative writing courses, residential and day, for the local English, French and German, and those from abroad.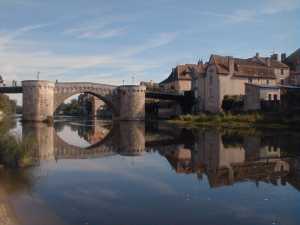 Within a stone's throw is La Valle des Singes, which is a monkey sanctuary where you are allowed to feed the monkeys on their own islands.
L'ille aux Serpants at La Trimouille is an amazing introduction to all manner of reptiles.
Futuroscope is not to be missed, with its salute to our technological age, evening firework display and incredible laser show.
At Limoges, with its porcelain shops and museum, there is a delightful shopping area and an 18-hole golf course.
At Poitiers, with its link to Joan of Arc is a pedestrianised shopping district in the old town, and numerous DIY, lighting, and furniture shops on the outskirts, not forgetting the 18 hole golf course.
Accessibility, despite its favoured climate, Montmorillon is only a 6-7 hour drive from the Channel Ports.
Ryanair have frequent and regular flights from Stansted to Poitiers and Limoges, both of which are sixty minutes drive from Montmorillon, though there are also trains from these towns to Montmorillon.
The only thing that Montmorillon is short of is accommodation for tourists, which is why property here is ideal for investment and capital growth.
In the area surrounding Montmorillon there are opportunities for horse riding, canoeing, rock climbing, micro-lighting, walking, outdoor and indoor swimming pools, or just relaxing on the sandy beach front of one of many of the fresh water lakes. There is windsurfing, tennis and cycling and the wild flowers are extraordinary, with orchids commonplace.
Our properties in Poitou-Charentes
No Properties Found!