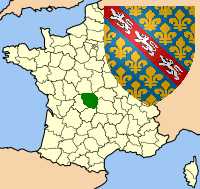 Close your eyes and imagine you're in heaven, where you would live if you had the choice, where someone asks how you are (and really wants to know), where gifts are given with no expectation of a return, where there are big skies, gentle landscapes, gurgling rivers, placid lakes, a hundred hues of green, whatever your imagination conjures up you will find it all in La Creuse - we know because we live here!
Occupying about one third of the Limousin region, Creuse takes its name from the river that runs through its rolling hills and wooded landscapes, with so many rich and varied colours that even the cows are a glorious orangey-brown.
It has been described as the place where everyone, even the professional 'party animal', comes to relax, but the spectacularly beautiful landscapes do not tell the whole storey.
In La Creuse you live among wonderfully generous and warm-hearted people who are so welcoming that you can sometimes feel overwhelmed with their kindness. Gifts of vegetables, home-reared meats, and flowers from the garden are commonplace, people are genuinely happy to see you and always make a special effort to ensure that you feel at home.
Why La Creuse?
So why come to La Creuse rather than any other department of France especially as there are so many wonderful places to choose from?
We could say that there is beauty and lots of it, or that there are hundreds of lakes with some so big that they have their own beaches, or we could talk about the gently rolling hills covered in deciduous forests with their wonderful autumn colours, or describe the rivers that meander through historic towns and villages with that certain mediaeval appeal, or mention any of a hundred other things that assault the senses.
All of these things and more are found in La Creuse, but the common thread is that here you can enjoy a simple life that keeps time with the seasons and of course we must not forget the food - oh the glorious food - eaten in a style only found in rural France, very relaxed!
So what is there here for the homeowner who is looking to buy for holidays, permanent living or eventual retirement?
Properties in La Creuse
Properties range from rural Çreuseoise farmhouses built of stone, to grand 'Manoirs' in town, all with that special French character and full of interesting features giving rise to many exciting possibilities.
Barns for conversion are often available, and usually properties will come with a sizable plot of land. If you are a DIY fan you will be in heaven!
With a low population density, the roads are practically empty so that the only hold-ups are the occasional tractor, or cows being herded to the next field, but who's in a hurry anyway?
Sports enthusiasts are well catered-for as this is true 'hunting', 'shooting', 'fishing' country.
For riders there are many equestrian clubs and with so many rivers and lakes water-sports abound, especially sailing and water-skiing, of course there are also the national sports of cycling and boules with clubs and events to be found all over the region.
Shopaholics can find bargains in the many towns, particularly in Aubusson the world capitol of tapestry, or nearby historic Limoges with all the posh shops and of course the world famous Limoges porcelain.
Serious diners are well served with the best of French and international cuisine, and on one visit to our favourite riverside haunt, the waiters actually closed the restaurant around a sleeping diner so as not to disturb him, it could only happen in La Creuse!
La Creuse Weather
Weather-wise the winters are generally shorter and milder than those experienced in the UK, shorts and tee shirts are the order of the day from mid-May onwards, and it is not unusual to witness a Mediterranean-type climate until quite late in the year.
It rains of course (how else to keep the landscape so wonderfully green), but when it comes it is so gentle - just like everything else.
Access to La Creuse
Access could not be easier, La Creuse can be reached within a day door-to-door using a network of good roads leading from the ports of Calais, Caen, Cherbourg or St Malo, alternatively the Airports of Poitiers, Limoges or Gueret will bring you to our beautiful region.
So come and see for yourself, there are still lots of opportunities to own a piece of paradise whether you are looking for a barn to convert, house to restore or something ready to move in to.
Remember that we are here to help you, not just with your search and purchase, but afterwards by helping you to get set up with banks, insurance, tradesmen, services etc, basically everything you need.
We understand the concerns you may have in setting up in a foreign country because we have done it ourselves but it really wasn't as daunting as it first seemed, our only regret is that we didn't do it sooner than we did!
We hope to see you soon,
Bob and Sandy, La Creuse Agents
Our properties in La Creuse
No Properties Found!