About Belle France Property
Belle France is run by Françoise Renet
Belle France Immobilier SARL is a fully registered and insured company.
Françoise Renet-Lowings qualified from the Faculté de Droit de Limoges in 1987 , worked in Bordeaux for several years and opened her own estate agency in 1991. The agency has been operating - based in the Perigord Vert, in the Parc Naturel Perigord-Limousin - since that time.
She has a wide experience in valuation, property management and letting, and sales of private and commercial property and businesses to French and overseas buyers. They have accumulated years of experience assisting clients in the process of fulfilling their dream of buying a house in France.
Our team is fully bilingual.
We have properties for sale in the Charente, Limousin, Dordogne, Brittany, Normandy and North Mayenne.
Lindsey Bovington is the Agent covering Lower Normandy/North Brittany and North Mayenne areas for Belle France Immobilier; she is fully qualified and bilingual and there's not much she hasn't come across in her 15 years experience with Belle France.
Having lived in France for over 20 years she knows the area well and can offer her clients a wealth of experience and knowledge concerning all aspects of owning a home in this beautiful and very accessible part of France composed of Lower Normandy/North Brittany and North Mayenne
Rebekah Hullott is new as Commercial Agent covering West Haute-Vienne, Green Périgord, Charente-Limousine but not new in the area.
She lives in France for over 10 years and knows well the area and she will be happy to give you great ideas for renovation and explain all the schooll and education system as she lives here with her 3 daughters.
She is of course fully trained and bilingual!
French Estate Agents – Immobilier
We are actively expanding our successful practice and are looking for agents in areas we do not cover at present.
If you feel you can offer the level of professionalism that we require, have an interest in the French property market and are not afraid of hard work, feel free to contact us.
How we Help the Buyer of Property in France
We have a lot of ex-clients who we have got to know as friends, and we'd like to keep it that way!
First of all, we select properties that we think are worthwhile offering. This may sound odd, but we value our time and we want to pass this on to our clients. We do not accept just every property that vendors propose to us, just those we know represent fair value for money in the French property market.
Some may be in dubious condition, some are so badly located, or overpriced, that we would feel ashamed to offer them, so we refuse to take them on. We were, for example offered one house very close to the path of a future multi-lane bypass. We didn't take it on, but it was our local knowledge which alerted us to the situation, the vendors didn't mention it!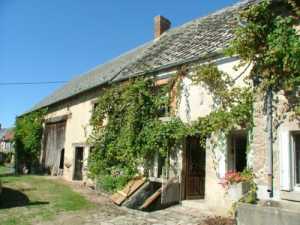 Property Renovation
We have a list of qualified builders with whom we have worked and who we trust to do the job properly. There are too many unqualified 'cowboy builders' operating in France and we want to help our clients avoid them. Our recommended builders work carries a 10 year guarantee.
One word of warning here, if work has been paid for 'on the black' or in cash, and not on a builders books, this guarantee does not apply, so be sure this hasn't happened! Receipts for work done in the name of the previous owners and with the address of the house being sold figuring on the document should be adequate in case of a claim.
Building Surveys in France & Legal Assistance
We can arrange for a survey, though this isn't common in France, and if you want to pay extra for a UK trained lawyer to 'vet' your sales documents we do have a legal team based here in France.
Having said that, all our sales documents are bi-lingual, the draft contract or Compromis de Vente being in French on the left of the page and English on the right, so, unlike with some other agencies, you do not have to pay for translation.
We visit the houses you choose to see with you, explaining anything you don't understand about planning consent, change of use, building restoration and development as we go around the site with you.
We can also advise on the other important questions such as 'How to buy?' or under which regime, Tontine, Commaunité Universelle, or as an SCI or other legal device, the intelligent selection of which should end up bringing benefits to the buyer.
We can give advice on inheritance, gifting between partners and other fascinating areas of french property and tax law, although we would prefer to refer clients to qualified experts in the field in certain cases.
We troubleshoot the purchase from the moment you decide you want to buy through to completion, and often give continuing assistance with planning advice and intervention far beyond the date of completion.
General Assistance with Moving to France
As part of our standard package we arrange for handover of utility accounts, water, electricity, and telephone, and often arrange Insurance for clients.
We have accompanied clients to set up bank accounts, on first visits to schools, to the Mairie, and later to the Prefecture for questions to do with Planning applications and car registration.
We've taken on re-registration of lakes, from "eau libre" status to fully private, which is difficult, but possible!
Pricing Your French Property
Last but not least, we do, of course, try to negotiate a good price for the buyer because we know that many of our clients come to us from past clients recommendation. We will always match or better the price for the same house shown anywhere else by another agency, if a buyer brings this to our attention at the time.
Help in Finding your French Property
We are very aware of what is on the market including properties that are about to be listed and those not directly listed with our agency. You can send us an enquiry form or just contact us and we will try our best to help.